The new Apple Watch SE is Apple's first affordable smartwatch, but actually, this watch is the best value smartwatch you can buy today! It starts at 279$ (£270, AU$430), and it has a lot in common with the Watch 6 like the design, many health sensors, OS, and more!
So, is the Apple Watch SE good for you?
The Good
Great performance
Bright and responsive touch screen
Impressive fitness features
Fall detection and heart health notifications
Great value for the price
The Bad
No always-on display
You still have to charge it daily
No third-party watch faces
No ECG or blood oxygen monitoring
The SE is a new model for the Apple Watch lineup, but very like the iPhone SE (the affordable 2020's iPhone), it's not all new inside and out. The new Watch SE has a lot in common with the Series 4 from 2018, with just two differences – the new SE doesn't have the ability to measure your ECG, but does have an always-on altimeter. The latter is unlikely to have an impact on your use, while the former might be important to some people. Otherwise, it has the same design, performance, and capabilities as The Apple Watch Series 4.
Apple Watch SE vs Apple Watch Series 6
One of the major things the SE is missing compared to the Watch 6 is the Always-on always-on display. This feature lets you see the time or notifications you have without having to lift your wrist up or tap the screen. And for me, this feature is actually not that important, the "lift wrist up" detection on the Apple watch is almost perfect so the Always-on display is just a nice to have feature for me.
Another feature that lacks on the Watch SE is the Series 6's new blood oxygen monitoring, but as we learned when testing the Series 6, this isn't a feature you should be concerned with right now. It's not reliable enough to be used for medical purposes and not practical enough for other uses.
The color options are another difference – the Watch SE model is available in two sizes, three different colors (dark gray, silver, or gold), and with or without cellular connectivity. Keep in mind that you can't get the SE in the higher-end stainless steel or titanium finishes.
The SE performs almost the same as the Watch Series 4 in speed and battery life and it's actually not bad. Apple's latest Watch OS, WatchOS7, runs great on the Watch SE, whether that's for navigating the interface, launching apps, or using voice commands with Siri, or health-tracking functions. Everything works smoothly, and I've never felt like I have to wait for the watch to do what I want, which is exactly how smartwatches should work.
The battery life is OK, I was able to pass a day and a half to a max couple of days of using until I had to charge it. The real problem comes when you want to use the new WatchOS7's sleep tracking feature because you need to wear the watch during the night, which means I had to find another time to charge it up. and the fact the new SE doesn't have fast charging makes it even harder. The watch SE needs two hours plus in order to get fully charged. As a result, that means I have to find time during the day to charge it up, so I end up taking it off to charge multiple times a day – when I'm sitting in front of the computer and working, in the shower, etc. Of course, is much more annoying than just charging overnight but that what it takes if you want to use the Sleep tracking feature on the Apple Watch, but f you're not going to use it, you can charge it overnight and done.
Health and Fall detection features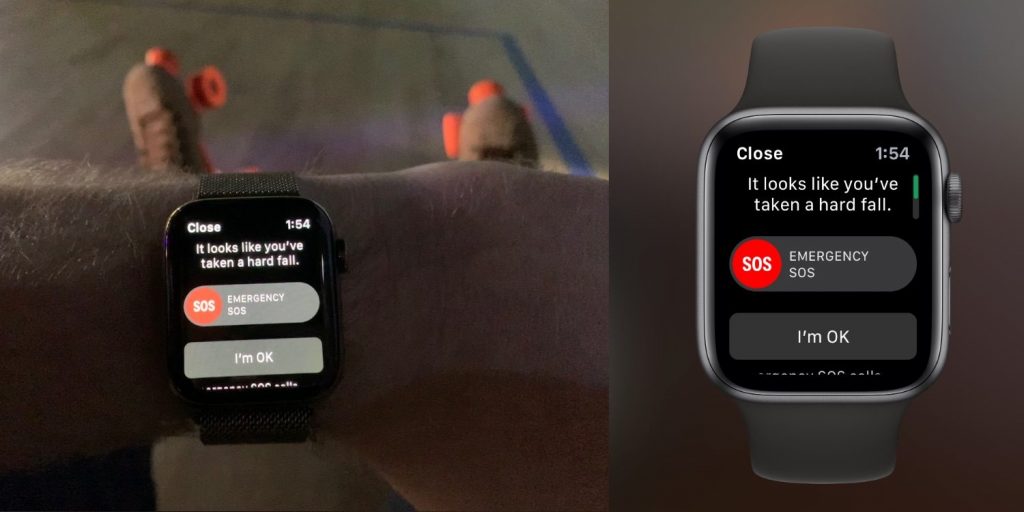 Even though the Apple Watch SE doesn't have Apple's FDA-cleared ECG or blood oxygen apps like the Series 6, it still has a lot of great health features. including fall detection and heart health notifications, which can be helpful when caring for aging parents.
If the person who wears the Watch has taken a hard fall and remains motionless for a certain amount of time, the watch will automatically contact emergency services and send a message with the GPS location to emergency contacts.
It also alerts you if you experience an abnormally low or high heart rate, or if it detects an irregular heart rhythm that may be indicative of atrial fibrillation (aFib), a serious heart condition. Also, the Apple Watch even tracks of noise levels and tells you when it detects levels that could be harmful to your hearing. Keep in mind that if you're over the age of 55, most of these health features will be turned on by default, but if not, you'll need to turn them on manually from the Watch app on your iPhone.
Get In shape with the Apple Watch – one of the best fitness trackers today
The Apple Watch is one of the best fitness trackers you can get. Its activity ring method helps keep about how much you're moving, which has been especially hard to gauge while working at home. It also gives you monthly challenges to keep you motivated, gives you an analysis of longer-term trends within the Activities app on your phone and calculates your cardio fitness levels using your estimated VO2 Max (maximum oxygen consumption).
With the Apple Watch, you can track over 40 different exercises such as dance, yoga, swimming, and hiking, and it even can detect some exercises automatically. So even if you forget to start a workout manually, you'll get credit for it. The SE also has a new always-on altimeter than tracks elevation in real-time like the Series 6.
In the bottom line – the Apple Watch SE is the best for most people!
If you're looking for an Apple Watch the new Apple Watch SE is a great option for most of you!
The Apple Watch SE has enough health, fitness, and smart features, and its lower price makes it much more accessible than the flagship Apple Watch – the Series 6. But if you need more advanced features like more health sensors, always-on display the Apple Watch Series 6 may be worth you the extra 300$ plus.