EVs (electric vehicles) are becoming an increasingly common sight on US roads, simultaneously with the charging stations needed to keep 'em juiced up. And while it seems like there are only a few brands having electric cars, there are actually well over a dozen fully electric models on sale in the US today. Here's the full list.
Audi e-Tron
Maximum Range of 204 miles
95 kilowatt-hour battery
The Audi e-Tron is the first fully electric car of Audi. It packs a 95-kilowatt-hour battery and a maximum range of 204 miles. The E-Tron's starting price isn't cheap at around $75,000, but you do get a lot of Audi quality for that cash.
BMW i3
Maximum Range of 153 miles
The BMW i3 electric car is a 44,450$ small car, and except for the BMW logo and a little bit more innovating look it hard to see why it cost so much. But the BMW i3 does offer a few things that no other similar cars can match.
The most prominent of these is its carbon-fiber chassis, which increases stiffness and reduces weight. The i3 is definitely meant to be a city car with a relatively short range of 153 miles. And it does it perfectly: it is easy to park and a nice place to spend time.
Chevrolet Bolt EV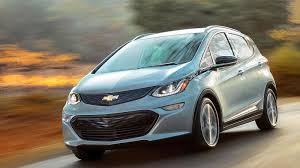 Maximum Range of 259 miles
66 kilowatt-hour battery
The Bolt EV was the mainstream car industry's first real, practical answer to Tesla's electric. It's an affordable hatchback, the bolt lets you drive for 259 miles in one charging. With a starting price of just $36,620, the Bolt has positioned itself as the perfect alternative to the $35,000 Model 3 from Tesla.
Honda Clarity Electric
Maximum Range of 89 miles
25.5 kilowatt-hour battery
Not for sale ONLY for lease – 379$ a month
$2,878 DUE AT SIGNING
The Honda Clarity Electric is a good looking electric car. The main problem of this Ev is the range of just 89 miles — too short. But if it's Ok for you, you'd like to know the things that this car does well. Like the build quality — is up there, so that counts for something.
Hyundai Ioniq Electric
Maximum Range of 170 miles
38.3 kilowatt-hour battery
Hyundai is getting way more into the electric vehicle game, and the Ioniq electric is the electric sister of the Ioniq hybrid car. Its range got a nice increase to 170 miles. This nice car lists for just a hair over $30K and that makes it a decent deal.
Hyundai Kona Electric
Maximum Range of 258 miles
64.0 kilowatt-hour battery
The Kona Electric is one of the most interesting new electric cars you can buy right now. It has great range, innovating styling, a lot of standard equipment, and all the other awesome Hyundai stuff, including a good warranty. The Kona EV is a lot faster and more enjoyable to drive than you'd expect, while its range of 258 miles puts it among the upper-echelon of modern battery-electrics. With a price tag starting at $36,990, you're getting a lot for your money.
Jaguar I-Pace
Maximum Range of 234 miles
90.0 kilowatt-hour battery
Jaguar i-pace is a super exciting car because Jaguar was one of the last companies we'd have expected to release a purely electric SUV. The I-Pace looks amazing and offers a real alternative to the Tesla Model X. The I-Pace is a solid beast too, having been designed to be an EV, it has plenty of space for people and things and a substantial range of 234 miles.
Kia Niro EV
Maximum Range of 239 miles
64.0 kilowatt-hour battery
Kia's Niro is the twin brother of Hyundai Kona Electric, and those two are sharing a lot of things. The Niro offers good range — 239 miles. driving in the Niro is more fun than its looks or specs would suggest and it's packed with a deep roster of standard features that make modern Kias so hard to beat for value.
Mini Cooper SE
Maximum Range of 110 miles
32.6 kilowatt-hour battery
The 2020 Mini Cooper SE is Mini's first electric car that it's actually selling widely to the public, rather than a quasi-experimental product a select few could lease. While in most respects, it looks like a plain Mini Hardtop or Cooper S, it instead has a BMW i3 electric motor under the hood. The SE makes 181 horsepower and 199 pound-feet of torque. Between the front seats and under the rear seats are battery packs that give the Mini an estimated 110 miles of range. The new powertrain means the electric Mini sits ever so slightly higher, but it has a lower center of gravity than other Minis, and it has a perfectly even weight distribution front to rear.
Nissan Leaf
Maximum Range of 150 miles
40.0 kilowatt-hour battery
The Leaf is the granddad of all affordable electric cars. And there is a reason that the Leaf is the world's bestselling EV by a factor of a zillion. The Leaf is a simple, well-built, affordable electric car that offers a reasonable range of 150 miles and still feels a little like the future.
Porsche Taycan
Porsche Taycan 4S: 203 miles
Porsche Taycan Turbo: 201 miles
Porsche Taycan Turbo S: 192 miles
The 2020 Porsche Taycan ranks near the top of the luxury electric car class. It has a high-end cabin, comfortable seats, quick acceleration, and poised handling. Despite these pros, overwhelming tech features keep the Taycan from claiming the top spot in this segment.
Tesla Model 3
Tesla Model 3 Standard Range: 220 miles
Tesla Model 3 Standard Range Plus: 250 miles
Tesla Model 3 Mid Range: 264 miles
Tesla Model 3 Long Range AWD: 322 miles
Tesla Model 3 Long Range Performance AWD: 322 miles
Tesla Model 3 Long Range: 330 miles
The Model 3 is just that good. It's comfortable, enjoyable to drive, has many of cargo space, and one of the best ranges in its class. In fact, the Tesla Model 3 offers a number of range options depending on the model starts at 220 miles to 330 miles.
Tesla Model S
Tesla Model S Standard Range: 287 miles
Tesla Model S Performance: 348 miles
Tesla Model S Long Range: 401 miles
The Model S hasn't been changed a lot form since 2012. The model S styling and its performance stay great. That said, it's also the reigning champ of all-electric range. Thanks to a recent overhaul, the S 100D can eke out 373 miles on a single charge. Unfortunately, it's also $74,990 before adding things like different wheels, paint, or Tesla's named Full Self-Driving feature.
Tesla Model X
Tesla Model X Standard Range: 258 miles
Tesla Model X Performance: 305 miles
Tesla Model X Long Range: 328 miles
259 to 762 net horsepower
The Model X is the safest, fastest, and most capable electric SUV in history. Hyperbole aside, the mid-sized, electric luxury vehicle comes with a 100-kWh battery, providing a maximum reported 328 miles of range. A dual-motor setup digitally and independently controls torque to the front and rear wheels, giving the SUV all-wheel drive.
Tesla Model Y
The Tesla Model Y is kind of a larger, version of the Model 3. Smaller than the Model X, the Model Y still offers seating for seven and even the same powerful electric powertrain. The model Y does an impressive 315 miles range no matter what model you choose.
Volkswagen E-Golf
Maximum Range of 123 miles
35.8 kilowatt-hour battery
The Volkswagen e-Golf has all the quality, practicality, and comfort of the standard model and adds the attraction of zero-emission motoring.