On Facebook, we've all seen a status that reads: "Asking someone else to drive your beast is like asking someone else to kiss your girlfriend.""" Such is the guys' love for bikes. An increasing segment of the Indian market spends on beasts to hone or relive the passion of bikers for the sport. As Widgeti, we have had a great time watching these dream machines closely, as we put together this list of the most expensive motorcycles on Earth that will empty your wallet and fill it with endless thrill.
These are the 20 most expensive motorbikes in the world.
In order to make the reading experience of this article more convenient, the article has been split up into multiple pages. At the end of each page, you will see a "next" button which will take you to the next page. Enjoy your reading!
20. Kawasaki Ninja H2R – $50,000
Kicking off the list is a stunning motorbike that retails for $50,000 – The Kawasaki Ninja H2R.
The H2R is designed specifically for closed courses in the Supersport division.
The supercharged, carbon fibre 300-hp beast, was launched in 2014 and only made available to limited markets.
The Ninja was created by all the Kawasaki industries joining forces and was made in their aerospace division.
19. Energica Ego 45 Limited Editon – $70,000
Next on the list of the most expensive motorbikes, is the limited edition, $68,000 dollar motorbike by CRP, The Energica Ego45.
The Ego45 is a high-end electric motorbike that can reach speeds of 60mph in just under 3 seconds.
Moreover, it's fitted with Bluetooth and cellular connections that allow the rider to send data and lap times to their smartphone app.
Pretty cool bike for $68,000!
18. Vyrus 987 C3 4V – $105,000
The Vyrus 987 C3 4V is incredibly pleasing to the eye, that is, if you like your bikes to show their guts! 
It comes with a hefty $100k price tag and is powered by a 2100cc Ducati engine, but built by an Italian company of the same name.
The 987 is one of the lightest bikes on the list, weighing around 158 kilograms.
Its naked design means that the majority of its internal guts are on show, which reduces the weight of the bike but also adds to the visual "wow" factor!
17. MV Agusta F4CC – $120,000
The MV Agusta F4CC is a beautiful-looking sports bike with a hefty price tag of $120,000.
The F4CC has a 190 hp, 1078cc engine and is built for high speeds, with production limited to 100 units.
Each unit is hand-crafted with tailor-made parts, so you have some comfort in knowing that you're buying something completely exclusive!
16. NCR MH TT (Mike Hailwood) – $130,000
The NCR MH TT is a limited edition sports bike that was created to celebrate the 30th anniversary of Mike Hailwood, a British Grand Prix motorbike racer that one the 1978 Isle of Man TT.
$130,000 dollars buys you a titanium-framed collectible motorbike, that's design resembles classic 60s racing bikes.
This is the sixteenth most expensive motorbike in the world!
15. NCR Leggera 1200 Titanium Special – $148,000
Coming in at number 15 is the NCR Leggera 1200 Titanium Special, which costs $148,000!
Just like number sixteen on our list of most expensive motorbikes, the Leggera has a lightweight titanium body.
It also has carbon fiber BST wheels, Brembo brakes, and Öhlins suspension.
Its lightweight frame makes the bike incredibly agile and fun to ride.
14. Icon Sheene – $172,000
The NCT MH TT is a limited edition motorbike that pays homage to Barry Sheene – a world champion motorcycle racer.
For the steep $172,000 price tag, you get a bike with a turbocharged 1400cc Suzuki four-cylinder engine, one of 52 playing cards engraved on the bike ( to highlight the limited number ), and the prestige of driving one of the most powerful bikes in the world!
13. MTT Turbine Streetfighter – $175,000
Known for its crazy fast acceleration, the MTT has a Rolls Royce-Allison turbine, which means it has 320hp connected to the accelerator!
The MTT has been limited to 5 units per year, for exclusivity purposes, and is one of the most powerful and aesthetically interesting motorbikes in the world.
If you want to get somewhere in a hurry, then this might be the bike for you!
12. Honda RC213 V-S – $185,000
With a price tag of $184,000 dollars, the Honda RC213 is right up there with some of the most expensive motorbikes in the world.
It's a Japanese road racing motorbike, designed and developed by Honda Racing Corporation. Its purpose was to race in the 2012 MotoGP series and continue into future seasons based on its performance.
The bike has a 6-speed sequential transmission, a Honda 1,000 cc 90° V4, 16-valve, DOHC, four valves per cylinder, a Liquid-cooled engine and weighs 160kg!
11. Suzuki AEM Carbon Fiber Hayabusa – $200,000
Just falling short of our top ten by $25,000, is the Suzuki AEM Carbon Fiber Hayabusa.
This bike can easily reach insane speeds of over 188 miles per hour and was widely known as the world's fastest production motorcycle.
It was first launched in 1999 and received a facelift and update in 2008.
10. Ducati Testa Stretta NCR Macchia Nera – $225,000
Starting off the top ten is the aggressive looking Testa Stretta NCR Macchia Nera.
$225,000, will get you a limited edition, lightweight, 135 kg motorcycle, with a 185 hp engine designed by legendary designer, Aldo Drudi.
In comparison to some of the other bikes on our list, it's not as powerful or fast, however, if you're looking for a bike to just add to your collection, then look no further!
9. Ducati Desmosedici D16RR NCR M16 – $235,000
Next up, we have the Ducati Desmosedici D16RR NCR M16.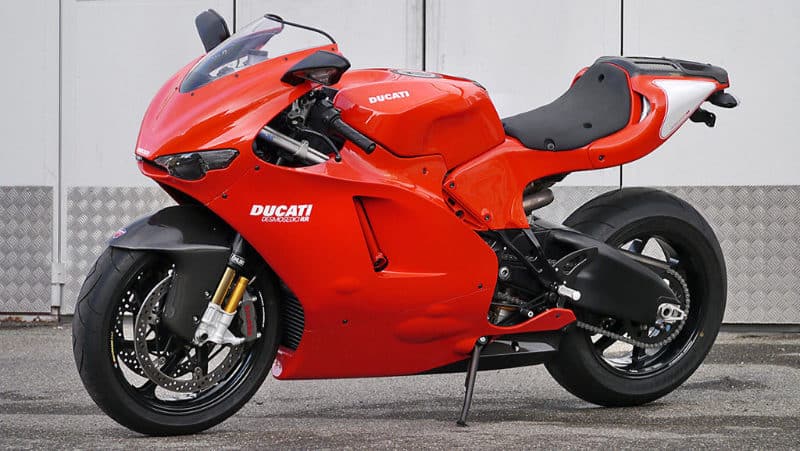 This bike is made from titanium, avionic, and aluminum and has carbon fiber fenders.
In case you're wondering, it is road legal and weighs 319 pounds.
Its price really comes about from all the upgrades you can add to the standard production model, which itself costs $72,000.
The D16RR is powered by a Ducati 989 cc v$ desmodromic engine and produces 200HP.
8. Ecosse Founder's Edition Ti XX – $300,000
The Ecosse Founder's Edition Ti XX has a titanium chassis and exhaust and will set you back around $300,000.
The bike is powered by a 2,409cc billet aluminum engine and transmits 228PS of power to the rear wheel.
Aesthetically, the Ti XX has Carbon fiber across the body, helping to keep the weight down, and has a beautifully handcrafted leather seat.
7. Legendary British Vintage Black – $400,000
The Legendary British Vintage Black is a classically styled motorbike that was released in 1948.
It had a limited production run of only 33 bikes, which certainly helps to justify the price!
It was produced in the United Kingdom and provides 250cc performance.
During its time, it was considered to be the fastest production bike in the world!
6. Dodge Tomahawk V10 Superbike – $550,000
One of the rarest bikes in the world is this crazy futuristic looking motorbike. The Dodge Tomahawk V10 is one of the world's most expensive motorcycles, costing over half a million dollars!
The bike weighs over 680 kilograms, can reach 60mph in 2.5 seconds, and has a top speed of 400 mph!! ( In theory )
Unfortunately, the bike is not road legal, as it is just a concept for now, but who knows, maybe one day we might all be riding around of these sci-fi-looking beasts!
5. Harley Davidson Cosmic Starship – $1.5 million
Kicking off our top five and the first motorbike to cost over $1 million dollars, is the Harley Davidson Cosmic Starship.
The bike was hand-painted by world-renowned artist, Jack Armstrong, which is why the hog costs so much, as some of Jack's paintings sell for in excess of $3 million!
So, if you have a spare $1.5 million, and looking to own one of the most expensive motorbikes in the world, then this might be worth a look.
4. The Yamaha BMS Chopper – $3 million
Look at this! What a stunning piece of mechanical art!
This beast is not meant for the road by any means, instead, it's a collector's item that's meant to be admired and appreciated for its aesthetics.
It has a 1,700cc engine, but forget that for now, as the Yamaha BMS is almost entirely coated in 24 karat gold and has a red velvet upholstered seat.
3. Ecosse ES1 Spirit – $3.6 Million
The Ecosse Spirit is a limited edition titanium motorcycle and the third most expensive motorcycle in the world.
Don't let its appearance fool you, as this bike packs enough power to satisfy even the most experienced rider, reaching speeds of 370 kilometers.
So, if you do decide you want to buy one, then you first must take a two-week class at the Ecosse headquarters, before they'll let you take it for a spin.
2. 1949 E90 AJS Porcupine – $7 Million
Coming in at number two is the 1949 E90 AJS Porcupine.
Costing a whopping, $7 million, you have to be seriously into your bikes to drop that kind of money.
Also, only 4 Porcupines were ever made, and in 1949, Les Graham won the world championship on one of them, so it's easy to see where the price comes from.
1. Neiman Marcus Limited Edition Fighter – $11 Million
The world's most expensive motorbike is the Neiman Marcus Limited Edition Fighter, costing an insane, $11 million!
Neiman Marcus is an American chain of luxury department stores, so when it decided to unveil a bike for auction, it received a ton of press and the price went through the roof.
As a result, the bike started out at auction at $110,000 but eventually sold for $11 million.
The Neiman Marcus Limited Edition Fighter is the most expensive motorbike in the world!
Summary
We hope you enjoyed our list of the 20 most expensive motorbikes in the world.
To sum up, after reading through the list ourselves, we're pretty sure we'd take all of them out for a test run, especially some of the faster ones!
Here's a quick recap of the 20 most expensive motorbikes in the world:
Neiman Marcus Limited Edition Fighter – $11 Million
1949 E90 AJS Porcupine – $7 Million
Ecosse ES1 Spirit – $3.6 Million
The Yamaha BMS Chopper – $3 million
Harley Davidson Cosmic Starship – $1.5 million
Dodge Tomahawk V10 Superbike – $550,000
Legendary British Vintage Black – $400,000
Ecosse Founder's Edition Ti XX – $300,000
Ducati Desmosedici D16RR NCR M16 – $235,000
Ducati Testa Stretta NCR Macchia Nera – $225,000
Suzuki AEM Carbon Fiber Hayabusa – $200,000
Honda RC213 V-S – $185,000
MTT Turbine Streetfighter – $175,000
Icon Sheene – $172,000
NCR Leggera 1200 Titanium Special – $148,000
NCR MH TT (Mike Hailwood) – $130,000
MV Agusta F4CC – $120,000
Vyrus 987 C3 4V – $105,000
Energica Ego 45 LE – $70,000
Kawasaki Ninja H2R – $50,000