Volvo's truck arm has officially announced the start of sales of three electric heavy trucks – FH, designed primarily for medium-long-distance shipments, medium-range FM or urban environments, and the smaller FMX. Production of the trucks will begin this fall, in addition to the three electric models already appearing in Volvo's lineup – FL, FE, and VNR.
With the start of production, Volvo will become a company with the most diverse selection of heavy power tools offered for sale in Europe, including even the smaller trucks that the company already produces.
According to the company, the production of the trucks is planned for the company's plant in Gothenburg, Sweden, which operates in a carbon-neutral way – and also puts it in a good position towards the goal it set for the end of the decade, of selling electric trucks at half of all trucks it sells.
'This is an important landmark for Volvo Trucks. There's a lot of customer interest for these wonderful trucks, 'said Roger Elm, who heads Volvo Trucks. "Until now, we have mainly offered our customers and partners to sign statements indicating interest in a future purchase, but now it is possible to sign real orders – and this is a big step towards electrifying the company."
Here they come
The first three electric trucks that Volvo offers for sale are different from each other and are designed to fulfill different goals – and thus Volvo will provide a solution for a large number of customers, on different scales, and position itself as an attractive company in many other companies that develop or plan to bring electric trucks to market. Of more than one vehicle.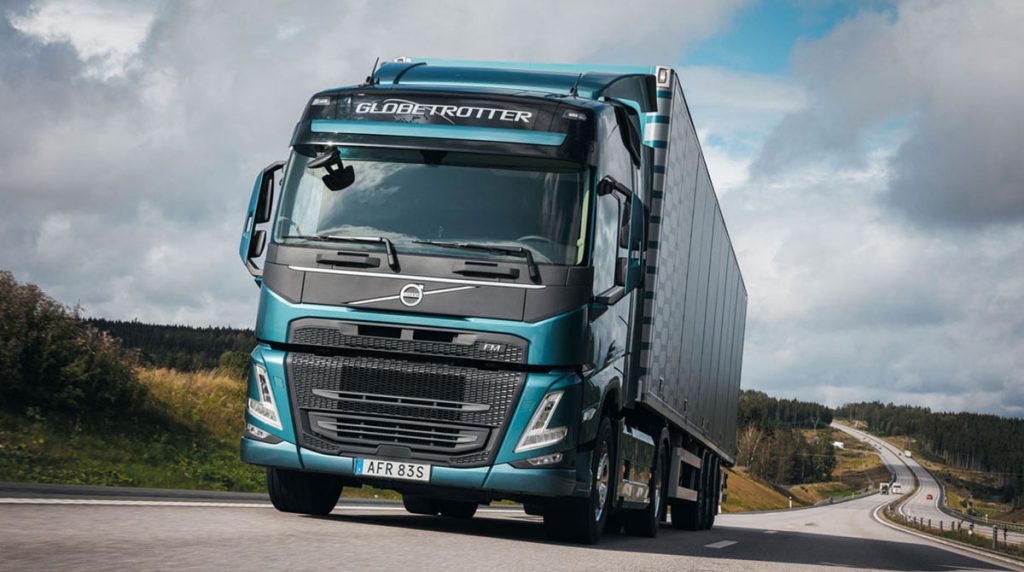 The first model, and probably Volvo's most impressive at the moment, is the FH truck: a heavy truck designed for medium and large distances, such as intercity deliveries. The truck will be equipped with two to six batteries, with a capacity of 180-540 kilowatt-hours and an engine with a power of 490 kilowatts (666 hp). Their charging time is about ten hours (or two and a half hours at a fast charge of 250 kilowatts).
With an electric range of about three hundred kilometers with a payload of up to 44 tons, the truck may not yet allow crossing the continent, but certainly allows for a solution that will suit many companies.
The FM electric truck also stands in the heavy arena, with a multi-purpose designation that can accommodate container transportation, shipments in the urban area, or even activity in urban areas reduced emissions or during hours when noisy and polluting diesel trucks are prohibited from entering.
With a similar battery array and almost identical cargo-carrying capacity, the activity within the urban area allows the FH a driving range of up to 380 kilometers, more than its big sister from the previous break.
The third model, the electric FMX, has a shorter base and is more designed to support construction sites – for transporting tractors or building materials inside construction sites in a quieter and cleaner way – Volvo's excellent solution to support the green change that the construction industry has to go through. To other areas that are becoming sustainable. The truck is equipped with a similar array of batteries and has a maximum range of 320 kilometers.
Although it has officially started issuing orders to customers, the price of the trucks has not yet been announced. According to Volvo, it has already received over 1,100 orders from customers from twenty different countries (including declarations of intent to purchase in the future).
It's not all
Recall that this is not Volvo's first electric truck and that even before the three new models it started selling the electric version of its 16-tonne truck, FL, as well as the FE model with a carrying capacity of 27 tons already in 2019.
Although both models offer driving ranges that were less than 300 kilometers per battery (up to 300 kilowatt-hours), certainly far beyond what any other company offered.
In the United States, Volvo has offered the electric version of the VNR since 2020, which has recently been increased in size from 264 to 565 kilowatt-hours, allowing a range of almost 400 kilometers. Volvo has recently updated the truck's charging capacity, and with a direct charge of 250 kilowatts, 80% charging can be achieved in 90 minutes.
In addition, Volvo is not only looking for electric sales of new trucks – and is joining forces these days with the Alison eGen corporation in an extensive process to replace the polluting engines of trucks already in use with electric motors, as well as installing electric motors in small vehicles for use Urban (such as street cleaners or trucks for transporting sewage).