Bitcoin has gained widespread acceptance and is growing in popularity. You can withdraw your cryptocurrencies from a crypto exchange and store them in an external wallet, unlike stocks at a stock brokerage. The best Bitcoin wallets make it easy (and maybe even fun) to manage and store your crypto portfolio.
When it comes to buying and storing Bitcoin or other cryptocurrencies, you might be on the lookout for the best Bitcoin wallet. We examined a long list of Bitcoin wallets based on cost, user experience, supported cryptocurrencies, and other factors. Here are some of the best Bitcoin wallets available today.
Remember: Investing in cryptocurrencies, Decentralized Finance (DeFi), and other Initial Coin Offerings (ICOs) can be extremely risky and speculative because of their volatility. Before making any financial decisions, consult a qualified professional. This article is not a recommendation by Widgeti or the writer to invest in cryptocurrencies nor can the accuracy or timeliness of the information be guaranteed.
In order to make the reading experience of this article more convenient, the article has been split up into multiple pages. At the end of each page, you will see a "next" button which will take you to the next page. Enjoy your reading!
Exodus
We picked Exodus as best for beginners because it is free and has a good customer support and optional support for cold storage.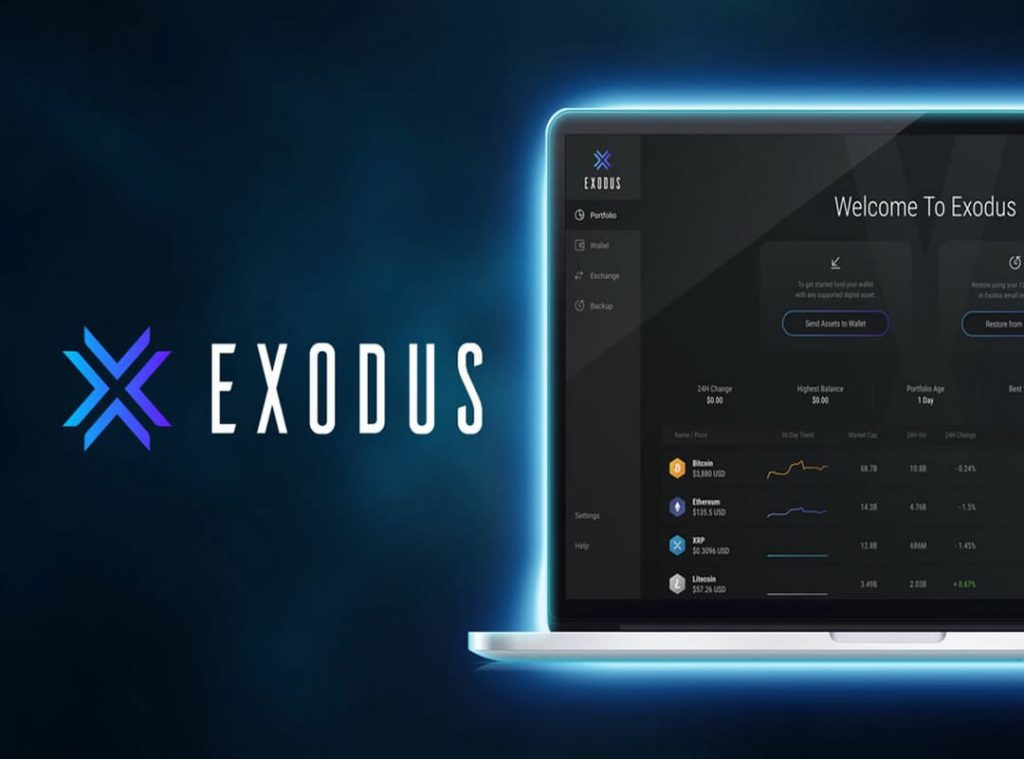 Exodus is a desktop and mobile wallet with a very simple user interface and an exchange built-in. One of Exodus's most popular features is the ability to swap between a growing number of cryptocurrencies. Exodus currently allows for swaps between over 150 different cryptocurrencies.
Pros
Huge variety of cryptocurrencies
Built-in exchange
Good customer support
Cons
With its simplicity, this wallet is great for beginners just getting into the crypto space. It also has great support, an essential feature for beginners getting into what many would consider a confusing market.
While it is great for beginners, more advanced users may find it lacking in some features. First, Exodus is a closed source wallet. This goes against the ethos of the idea of Bitcoin and blockchain and can create some security concerns as its code is not open for everyone to see. Instead, users rely on the Exodus team to ensure there are no holes in the security of its wallet.
Exodus has an option to set custom fees to keep costs down, in addition to the option of automatically setting a fee that ensures the transaction completes quickly.
Electrum
We chose Electrum because is it secure, open-source, and offers advanced features and options.
Electrum is one of the original Bitcoin wallets. It has been around since 2011, two years after Bitcoin's creation, and has changed little since. While this wallet is bare-bones in terms of its user interface and commitment to only Bitcoin, it excels at this primary function. Electrum is also more suited for advanced users due to its complex options.
Pros
Customizable transaction fees
Greater level of security than most hot wallets
Cons
Bare-bones user interface
Only works for Bitcoin
No formal customer support, only documentation and community
Electrum is open source, allows its users to set custom transaction fees, and has the option to choose between legacy Bitcoin and Segwit. It also offers users the ability to determine the level of security they wish to use. For example, you can create a standard wallet, one with 2-factor authentication, or a multi-signature wallet. You can also elongate your seed phrase with custom words.
Electrum is perfect for the more advanced Bitcoin holder who wants great security features and customizability, all in a simple layout.
Mycelium
We chose Mycelium for mobile users because it gives you more control over transaction fees and integrates with a hardware wallet.
Mycelium is an open-source and mobile-only Bitcoin wallet. Mycelium currently only supports Bitcoin, ETH, and ERC-20 tokens. In some ways, Mycelium is quite similar to the Electrum wallet. Some of the differences are that it is mobile-only, has a more refreshed user interface than Electrum, and has a built-in exchange.
Pros
Customizable transaction fees
Ability to use hardware wallets
Open-source software
Cons
Mobile only
Confusing for a first-time user
Mycelium, like Electrum, is one of the earlier wallets in space. Also, like Electrum, you can set custom transaction fees so you can choose how long you're willing to wait for a transaction to be completed.
Mycelium also has a few more interesting features, such as hardware wallet support, allowing users to hold their Bitcoin in an offline storage device while still using Mycelium's user interface to see their holdings.
Ledger Nano X
We picked the Ledger Nano X because it offers secure cold storage and connects to devices with Bluetooth or USB through the Ledger desktop or mobile app.
The Ledger Nano X is the second generation hardware wallet from Ledger, a French company launched in 2014. Ledger's first cryptocurrency product, the Ledger Nano S, was one of the first hardware wallets on the market and dominated the space for a number of years.
Pros
Ledger Live has an intuitive and convenient user interface
Storage for between 3 and 20 different apps
Open-source software with added benefit of customer and community support
Convenience of Bluetooth connectivity
Cons
Bluetooth integration a potential vector of cyber attack (USB is still an option)
Bluetooth feature not perfected
Limited wallet storage
The Nano X resembles a USB drive and connects to your device via USB or Bluetooth. This means that you can connect the wallet to your iOS or Android device without needing a computer. It supports over 1,800 cryptocurrencies. This list grows each year as the Bitcoin community asks for support for their favorite cryptos.
While the device itself is a cold storage hardware wallet, the Ledger team has created the Ledger Live software that provides a user interface for all your holdings. This gives users the ability to add new wallets for different cryptocurrencies to their devices and manage their portfolios.
Ledger hardware wallets have been, and currently are, the most popular in the industry. The Ledger also comes with a 1 USB-C to USB-A cable so that it can be connected to either a desktop computer or a smartphone if preferred over Bluetooth.
Trezor Model T
We chose Trezor as best for security because it comes with the strongest security features and tracks records of any reviewed hardware wallet.
Trezor, like Ledger, is a name synonymous with crypto-cold wallet storage. Its Model T is the second generation of hardware wallets they have created. The Trezor Model T is very much like the Ledger, but it gives the user the ability to access third-party exchanges, like Changelly and CoinSwitch, directly in its website interface. While this is quite convenient, it hardly justifies its more expensive price tag of $195.
Pros
Web-based user interface with exchanges built-in
Massive list of supported cryptocurrencies
Open-source software with added benefit of customer and community support
Cons
Higher price point than others
Small touchscreen for typing
Confusing for a first-time user
The Model T utilizes a touch screen, which can be easier to use for beginners than the buttons their previous model used. The Trezor also has a MicroSD card slot, allowing you to use MicroSD cards to encrypt the PIN and further protect your device from attacks.
Like the Ledger Nano X, the Trezor Model T also comes with a USB Type-C cable so that you can connect to either your smartphone or desktop computer. Currently, the Trezor Model T supports more than 1,800 different cryptocurrencies. Some consider the Model T to be a bit more secure than the Ledger Nano X due to the X's Bluetooth connectivity (although Ledger's Bluetooth is optional).
Coinbase
Coinbase is a well-known cryptocurrency exchange that makes it easy to buy, sell, and exchange cryptocurrency. Coinbase makes buying Bitcoin as easy as buying a stock through an online brokerage, but look out for the fees and poor customer service.
Trading on Coinbase is beginner-friendly and easy to use for anyone with basic computer skills. Coinbase is available on the web or through Android and iOS mobile devices. If you've ever traded stocks through an online brokerage, you'll find a somewhat similar experience.
Pros
Easy to use for cryptocurrency beginners
Support for a large number of cryptocurrencies
Opportunities to earn cryptocurrency
Lower pricing available with Coinbase Pro
Cons
Potentially high transaction fees
Customer service issues
No access to trade many altcoins
On the main dashboard, you're able to view your Coinbase portfolio, and you're never more than a couple of clicks away from a screen to buy and sell currency.
Cryptocurrency markets operate 24/7, so you can log in and enter a trade at any time. Purchases are available using funds in your account or directly through a connected bank account or card. Additional fees may apply depending on how you pay for your crypto purchase. Purchases are credited to your account instantly, though you may have to wait for your deposit to clear before making a withdrawal.
FAQ:
⚡ What is Cryptocurrency?
Cryptocurrency is a digital currency and is classified as a subset of alternative currencies and virtual currencies. It is a medium of exchange like traditional currencies such as USD, but it is designed to exchange digital information through a process made possible by certain principles of cryptography. Cryptocurrency is a bearer instrument based on digital cryptography.
❓ What is Bitcoin wallet?
A Bitcoin wallet is a software application in which you store your Bitcoins. However, bitcoin does not exist in any physical shape or form. Bitcoin can't technically be stored anywhere except coin wallets. This type of software is easy to use and reliable while also being secure and fast.
💲 How to Add Funds to a Bitcoin Wallet?
First, you need to determine the amount of Bitcoin you want to buy. After that, you need to enter an amount that you want to deposit to your bitcoin address. Then using ACH, Wire, credit card the amount will be transferred to the bitcoin wallet.
💻 How do Bitcoin ATM works?
Bitcoin ATMs, which are also called Bitcoin Teller Machines (BTMs), are not ATMs in the true sense of the term. It is a center where you can buy Bitcoins with fiat money. Some machines also allow you to sell Bitcoins.
🌟 What are the safety measures used cryptocurrency wallet?
Here, are some safety measures you need to understand while using a cryptocurrency wallet:
Keep a small amount in your Bitcoin wallet.
Backup of your wallet helps you to protect you against computer failures and many human mistakes.
You should encrypt any backup that is exposed to the network
Use a strong password that must contain letters, numbers, punctuation marks, and must be at least 16 characters long.
You need to make sure you never forget the password, or you may lose your fund.
💲 Can you pledge/take a loan against coin stored in crypto wallets?
Yes, you can pledge or take a loan again coin stored in a bitcoin wallet. It is known as bitcoin loan, which is similar to a traditional loan offered by banks. In the bitcoin loan, most of the risk is not on the lender. Still, the borrower is putting up more than enough Bitcoin to cover the loan and interest payments.
🚀 What are some important types of Crypto wallets?
Here are some important types of Crypto Wallets:
Hot wallets: These types of wallets use keys (a type of cryptography, kind of like a password) that were created or stored on a device that should have access to the internet. Hot wallets provide high utility, but they are considered less secure than cold wallets.
Cold wallets: These types of wallets use keys created on a device that should have access to the internet. They are also known as hardware wallets. Cold wallets are stored on physical devices.
Hosted wallets: These live on another server which you don't have control of. Hosted wallets are used by hackers, as they hold the data of all the funds from the wallets on the server. Hosted wallets offer various levels of protection as some hosted wallets are insured by third parties.
Decentralized wallets: In a decentralized wallet, you are the only person that holds the keys to your crypto wallet. A decentralized wallet never gives you a guarantee of complete privacy. However, it also means you don't rely on a 3rd party to send, receive or store your cryptocurrency. This helps you to ease some security risks associated with hosted wallets.
Hardware Wallets: Hardware wallets are physical items (like a type of USB drive). The Ledger Trezor, Nano X, and KeepKey are popular names in hardware wallets. They are considered a highly secure type of wallet. It is the best choice for you to invest large amounts at a time and don't plan to trade regularly.
Software Wallets: Software wallets are also called hot wallets. This type of online crypto trading platform doesn't require to be downloaded and can be accessed through an internet browser.
❗ What should you look for in a Crypto Wallet?
Here are some important factors that you should
Usage: The biggest factor you should consider when selecting a crypto wallet is how you intend to use your crypto. So, If you are planning to buy and holding your investment for the long term, a hardware wallet is surely the best choice for you.
2-factor authentication: 2-factor authentication, also known as 2FA. This feature allows you to verify your identity when logging into the crypto wallet. If someone had your password or able to crack your password through any of a number of methods, they would still require passing the second level of authentication. Most of the exchanges sent a verification code to your mobile, which needs to be entered into a sign-in field before granting access.
Multi-signature support: Sometimes, a crypto wallet is owned by several people, like business partners. At that time, multi-signature support needs that help you to set the security for the wallet, which is needed for multiple keys before access is granted. This also prevents any one person from spending the funds unauthorized or from transferring the funds to another wallet.
Exchanges as crypto wallets: Many cryptocurrency users are using Coinbase as it offers a variety of tokens, allows you to make payments, buying, selling and trading with the help of the GDAX platform.
Multi-currency vs. single currency: Many cryptocurrency owners own multiple cryptocurrencies. Therefore, manage a separate wallet for every, and every currency can be a complex process. Therefore, you should select a bitcoin wallet that supports multiple types of currency.
QR Code Scanner: If you want to access the mobile crypto wallet, then a QR code scanner is a must. This allows mobile crypto wallets will be able to generate and scan a QR code for coin transfers.
Backup Option: Your select crypto wallets should provide an option for backup. So, in the case when your laptop, pc, or phone device stop working, you have data to back up immediately. Therefore, some mobile crypto wallets like Coinbase provide a handy feature to restore your wallet.
🏅 What is a Bitcoin address?
A Bitcoin address is like an account number. Just like the address, it denotes which wallet the coins should be sent to, like a bank account number, where the major difference lies in the wallets having numerous addresses. You can customize your Bitcoin address by including payment request details like an amount and a date of expiration.
❓ What happens if the hardware wallet company is shutdown?
If Microsoft went out of business tomorrow, you can still play your XBox with some or no issues. Hardware wallets are the same as you don't need a company to remain in business to continue using your hardware wallet. However, you need to run your own node in order to send and receive the transaction.
Let's say you use TREZOR wallet, so if they go out of business and no longer support my hardware wallet and it gets shut down.
You can perform this by following these steps:
Step 1) To do this, you just need to download Electrum on your computer.
Step 2) Once installed, you had set up your TREZOR, and all of your trading transaction history and balance would get imported exactly the same in your migrated platform.
That's because Electrum wallet uses the 24-word seed you generated with TREZOR on setup.